Real-time data clean room
Collaborate on data with your partners without disclosing sensitive information.
Build processes, enable services, and monetize your data
Collaborating on data is a long, expensive, and high-risk process. From setting up advanced cloud infrastructure, implementing data ownership controls and trust mechanisms, meeting regulatory requirements to accessing siloed data and developing a range of integrations. Trusted Twin solves these problems.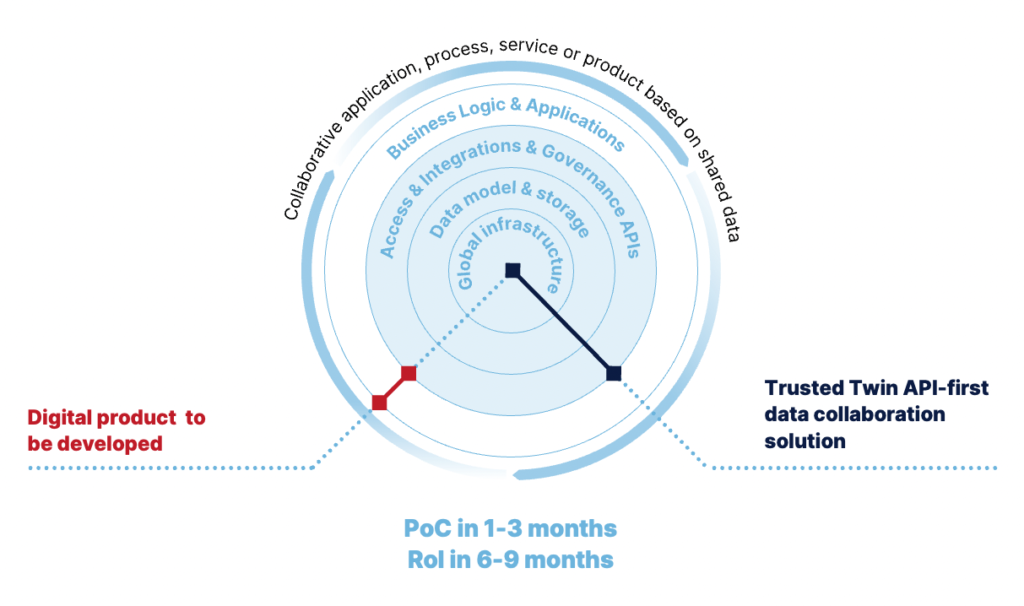 Share and Manage Operational Data with Trusted Twin
Establish trust, retain ownership and control over your data
Trusted Twin enables all users involved in a business process to dynamically create shared objects that exist independently between cooperating partners. Each user retains full control over data visibility and accessibility, facilitating data collaboration even among partners with limited trust.
Integrate seamlessly with multiple systems and partners
As a technology-agnostic platform, Trusted Twin brings together everything that is required to build, maintain and scale seamless multi-partner integrations, regardless of the technology each of the partners wants to use. With a powerful API, webhooks, SDKs in multiple languages to comprehensive developer documentation, the platform accelerates your time to market.
Focus on building apps and services - not infrastructure
The Trusted Twin platform provides a complete data-sharing layer. Therefore, developers can focus on building applications and core functionalities and not infrastructure. All non-functional but mission-critical issues related to reliability, availability or scalability are taken care of, thus drastically reducing development time and cost.
Shared objects are dynamically created and suitable for any business process as they comprise:
JSON documents storing the state of the Twin (Ledgers),
Documents of any type or size (Docs),
User-defined structured and multidimensional views of Digital Twins' history (Timeseries databases),
and many more features and services.
Data Accessibility and Visibility Management
With the build-in Rules feature which lets you tailor access to the visibility of your resources and create custom permissions for users, you can flexibly manage accessibility and visibility of your data to match the needs of your business at any given time.
Security and reliability at scale
Seamlessly scale with our global coverage, robust security, flexible data storage and retention modules. Our transparent usage-based pricing lets you avoid an upfront investment as the cost of the platform will follow the value it creates for your business.

Build collaborative processes, applications, services or products based on data collaboration
Trusted Twin allows you to build any application relevant to your business needs. Sample use cases include:
Let's discuss how Trusted Twin can enable data collaboration for your business.